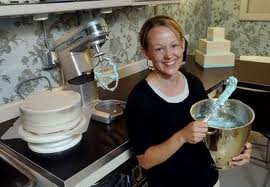 Yeah, another state is moving closer to passage of Cottage Food laws that will allow home bakers to start baking for profit.The home bakes in Georgia need as much support as possible as they go down the path of encouraging their lawmakers to make it legal for them to sell their non hazardous baked goods that they make in their home kitchens. If you live in Georgia and can help with their efforts, please visit their FaceBook Fan page
If your state is lagging behind the rest of the country, visit that page too and see how the people are working to add the laws to enable them to start small businesses at home. It benefits not only the people who now will have another way to produce much needed income, it benefits the community to be able to have ready access to quality home made food that is not currently available. That type of commerce also benefits the local economy. It is just a win, win, win situation.
In addition to starting a Facebook Fan Page, you can use all the other forms of Social media to get your message out. You too could start your own petition online, as well as face to face efforts in your community. Don't forget to check out the baking forums and see if there are others there from your state. You need to connect with others who are interested in starting a movement with you . Many hands make it so much more possible to achieve your goals. I will be visiting the states websites to see how much progress they are making, and give updates when I find something of interest. At this point, they have collected over 1200 hundred signatures on the petition, so if you can help with the petition, please do that .
I just visited Cake Central . It is interesting to read the thread. It was started with a simple question about whether or not there was a petition in the state of Georgia to pass a Cottage food law. That was posted in 2010, and as time went by, the petition was started, and people were signing it. Now they are just waiting. If you are interested in starting your own movement to get the laws passed in your state, what are you waiting for? The road has been paved, so you can approach others from other states who have fought the battle and won.
I am excited by all the good news. As a lot of you know, one of the ways I monetize the site is to train others to make money doing fundraising. With the passage of these laws, it will be so much easier for anyone wanting to learn how to do the fundraising business model. It has been hugely successful and would be a great fit for people in the cottage food law states.