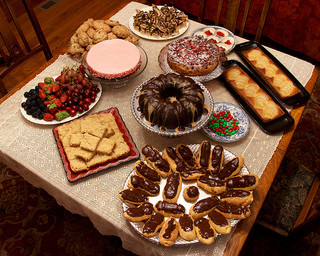 Do cookbooks shout out to you? If you are like me, those tantalizing pictures are irresistible. A long time ago  I realized I was becoming much like  my mother. She always read recipe books.  I have to admit at a younger age I thought that would be so boring. Little did I know that while I was wasting my time reading mysteries, she was stocking her recipe box with delightful things to make. I did  not connect the dots that all the good things that came out of her kitchen were a direct result of the time she spent with her recipe books.If you can identify with that, check out this book.
It is called "Wild Sugar Desserts" by Skye Craig and Lyndell Miller. As I was reading through this book, not only did I fall in love with the pictures of the desserts and  all the recipes, but with the personality of it's authors. Just as sugar is a main ingredient in some of the dessets, Skye and Lyndell's passion for baking is infused throughout the entire book, cover to cover.  For example, on the back cover, this quote demonstrates their philosophy. "Sweets and desserts bring us together in complete delight, whether it be for celebration or for comfort. They carry us through life with joy."
Recipes you will find in Wild Sugar Desserts
This book has recipes for every pallet, from the health nut enthusiast to the chocolate lover. They have included recipes that are perfect for children's parties and elegant dinner parties and everything in between. For the health nut, there is a recipe called "Coconut Lime Bombe". It Only takes 45 minutes to prepare, 8 hours to freeze, and is dairy and gulten-free.  It  looks wonderful and refreshing. Quick Pineapple and Mint Sorbet only has a five minute prep time and offers a healthy refreshing way to finish the meal.
Okay, you know we should eat healthy, but simply can't pass up a decadent chocolate tart? No worries, this book has plenty of recipes that fit the bill. How about Bittersweet Chocolate and Pomegranate Tarts that only take 20 minutes to make. Here is one that is a must try, at least I know I am putting it on our menu. Italian Mamma's Tiramisu includes chocolate. Yumm.
I am going tease you with the names of some of the other recipes they include. Here goes:
Killer Banana and Chocolate Bread
Strawberry Yougart Cheesecake
Warm Pumpkin Pie and Spiced Ginger Cream
Vanilla Bean Figs
Baked Hazelnut Custard with Lime Sugar
Starry Eyes Popsicles
Gummy Gummy Gum Drops
Mini Ice Cream Sandwiches
Coffee Granita
Espresso Cookies
Creme Burlee to end all Creme Brulee
Hot Chocolate Vodka Shots
Cinnamon Chocolate Souffle
Mulled Wine
Hazelnut Praline Butter
Raspberry Cream
Sweet Cinnamon Nuts
I don't know about you, but I hear my kitchen calling. Who needs company as an excuse for a wonderful dessert. Heck, you need to test recipes before you use it for company. What are you waiting for, check out this book and fire up your oven or freezer as the case may be. Your family will love you for it. Clicking on the picture will let you take a look for yourself. Let me know what you think.


Talk to you next time.
Grace
P.S. From time to time I recommend products and services I 110% believe in. If you click my link and buy I earn a commission. The products won't cost any more because you click my links. In fact, I'm sometimes able to negotiate better prices or add bonuses on top when you click my links. It's a triple win.
photo credit: djwtwo