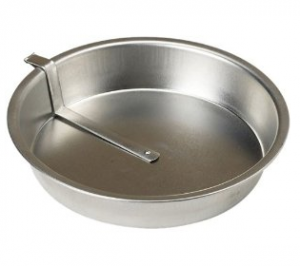 Seriously, a cake pan is an absolute must if you want to bake a cake. Are you thinking I have lost my marbles? It is Friday, so please bear with me, but that made me think of something funny. A psychologist I know got a t-shirt that said"I can help you find your marbles". I know, that was really random, but some days are just like that.
Anyway, back to business here. Last week my husband and I were invited to a dear friends house for a dinner party. She asked me to bring a Red Velvet Cake. Oh boy, now you will begin to know the truth about me. I love to work with yeast. I have done quite a bit of cake decorating back in the day, but really, cake isn't my specialty. And Red Velvet Cake was all new to me. You see, my family is not big on cake.
My kids have always been able to pick their birthday dessert, and it seldom is cake, unless it is German Chocolate. They usually choose things like cherry pie, cheesecake, apple crisp, grasshopper torte, strawberry shortcake, tapioca pudding etc. So you see, the request for a cake that I did not have experience with made me nervous. When that happens, I always pull out a cookbook that my sister-in-law wrote for family. She is a gourmet cook, so I always count on her book when I have to make something new, because I know that if it is in her book, it is a great recipe. I flipped through her book to the cake section, but there was no recipe for Red Velvet cake. That put me over the edge.
Start With a Good Recipe
I am always afraid to trust a recipe from the internet for a special occasion. Problem was, I needed the cake that night (I know it was procrastinating). Anyway, I started looking at recipes that got good ratings from large numbers of people. As I read them, I was shocked to see the amount of red food coloring each recipe called for. Oh my gosh, just the thought made me squeamish. I started researching for alternatives and learned a lot of kitchen chemistry I had not known, stuff about the ph balance and lots more I can't remember.
Then I found out that you could substitute beets for the food coloring, hmm, I kept researching, talked to one of my daughters who then sent me a recipe with beets. I read all the directions, realized I would have to make another trip to the store to buy the beets, then boil and puree them for an hour an a half. I looked at the clock, and then just decided the heck with it, I just cut down the amount of food coloring and added water for the rest of the liquid and baked the cake.
The cake was finally done, cooled and ready to frost. When I went to dump the cake out of the pan,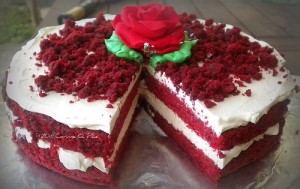 it wouldn't come out. I know all about greasing and flouring the pan, I did that. It still wanted to stick to the pan. Ahhhhhh, I kept loosening the cake, tapping the bottom of the pan, still wouldn't come out. When it finally did come out, it cracked in half. You see the kind of day I was having.Thank goodness for frosting, it covers a multitude of mistakes!
A cake pan from the past
I have to tell you, when that bottom layer of the cake split, it was the last straw. I thought back to when I was growing up. My mom had cake pans with sliders. They lined the bottom and the side of the pan, and before you dumped the cake on the plate, you would loosen the cake by sliding that device around the entire cake pan. Then the cake came out like a dream. After that cake fiasco, I decided I would see if I could find pans like moms. I spent time on the internet searching, but came up with nothing. Then I did a search for "vintage cake pans". I found several, but  they were fairly expensive, and not in great shape.
I kept searching, using all the search terms I could think of to describe pans like that. Finally, I found some! I was pleasantly surprised with the price as well. I am so excited that I decided to share the links for them with you.
The first pan is only 8″ but it is 1 1/2″ deep. The price is great.
The other one is 9″ in diameter, but the complaint I have read is that it is only 1″ deep. It is also more expensive.
The next option is for a set of two pans. I guess that if you are making a cake, you probably will want to have two pans, but you could also choose to buy two of the others.
I wrote this because I was so excited after all these years I have finally found pans that make it so much easier to get the cake out of the pan. I don't know why they don't make them all that way.
Do you have a favorite tool for the kitchen? Please leave a comment.
photo credit: pike.corinne