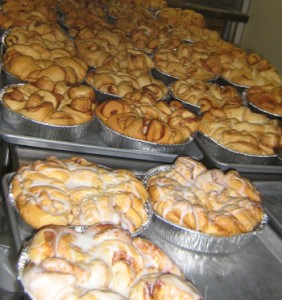 Dough Raising Mom Has Set the New Dates for Classes
I just wanted to let all of you know that I just posted the new dates for the future classes. For any of you who are new, I am talking about my business class that I teach to people who are looking for a part time income. I teach you to work with non profits to help them raise money. You make homemade cinnamon rolls to sell to non profit groups and they sell them for double what you charge them, A typical sale can make it easy for you to earn $250 -$500 in a weekend. Don't get me wrong, I am not promising you that you won't have to work hard, but you will have good money in your pocket at the end of the weekend.
I have been doing this for over 25 years, and I know for a fact that it works well. I am locally known as the cinnamon roll lady. People stop and ask me when the next sale will be. What else can you do to earn money where the customers are eagerly awaiting the next opportunity to buy from you. If you want to know all about it, you can go to our class page and get all the details. You don't have to know how to bake, you can leave that to me. During our time together here at my commercial kitchen, you will learn everything you "knead" to know to go out and start building your business.
I would love to talk to you about it. Simply click the Google voice icon for a free call. I look forward to talking to you. In the meantime, I hope you have a wonderfully blessed day. Grace