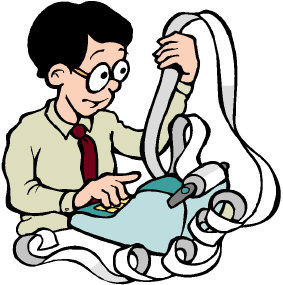 Alright, I said it, bookkeeping. It is a part of running a business that many solopreneurs want to shy away from. I get that, I have to raise my hand as guilty of sharing that same feeling. You have heard me say it, when you start your business, you get the honor of wearing all the hats, and one of the key hats you wear is keeping the books for your business. Otherwise you will never know if the decisions you are making are taking you in the right direction.
I am not an expert on this subject, but I would like to start introducing you to people who have expertise in areas that I lack concerning running your business. That is why I am hosting a guest blog today. I would like to introduce you to Molly Mitchell. She is a freelance business writer who also owns the site https://www.economicsdegree.net. When she isn't writing, she enjoys reading and being outdoors. Molly is going to give you some great suggestions about types of software that is available to make your book keeping chores easier.
Computer-Based Bookkeeping for Beginners
If you are interested in starting your own business, there is one thing you must learn to do to ensure financial success; bookkeeping. Although this process may raise feelings of dread and confusion, it's best to remember that bookkeeping simply means keeping track and recording every business transaction.
To maintain proper bookkeeping files, a business must establish a consistent method for recording sales, purchases, receipts, payments and income. Maintaining daybooks the "old fashioned" way can be overwhelming for those who have not been formally trained in bookkeeping. For this reason, many new small business owners (who do their own bookkeeping) prefer to use bookkeeping software or web programs versus daybooks and ledgers.
Listed below are the top-rated bookkeeping computer programs and websites in today's market:
Outright.com: This online bookkeeping program automatically organizes your transactions by linking to your business' online bank and credit card accounts. The program also creates business performance charts and instantly organizes income and expenses in the way the IRS expects. Outright.com also notifies of tax deadlines and tells you how much you owe each quarter. The website also ensures maximum security with bank-level encryption. Create an account for free or upgrade to Outright Plus (includes a few more features) for $9.95 per month.
Intuit QuickBooks: QuickBooks has been one of the most popular bookkeeping software programs for years. Now, it is available online through an array of products that offer everything from inventory tracking to employee payroll with free direct deposit. For the solopreneur, QuickBooks Online Simple Start ($12.95 per month) or Online Essentials ($26.95 per month) would be the best programs to begin with. For those who feel more comfortable using a computer program, the traditional QuickBooks Pro software is now on sale for $183.95.
Bookkeeper 2012: This software program created by Avanquest, creates invoices, processes payroll, creates reports and charts and processes credit card and check payments. Although most transactions require manual input, Bookkeeper 2012 available for only $39.95, making it a great bookkeeping product for new small business owners.
Shoeboxed.com: Although this site does not offer full bookkeeping assistance, Shoeboxed.com is still a great free service for new entrepreneurs. The site serves as place where you can mail,scan, upload or email receipts and business cards to help you with expense reports and tax preparation.
Freshbooks.com: This site provides online invoicing by integrating with PayPal and other online payment systems. Through a free or upgraded paid account, you can also track expenses and create reports for tax season. You can also log work hours and send quotes to prospective clients.
Through the use of one of these great programs, anyone can take care of their business' bookkeeping needs without formal training. Free traditional bookkeeping training can also be found at https://www.dwmbeancounter.com/tutorial/Tutorial.html.
Article written by Molly Mitchell, owner of https://www. EconomicsDegree.net.
Photo credit: Accu-Tax Financial Services | Tax Preparation JAX