Wow, how can it be Thursday already!
I have struggled to blog constantly and I am working on that. Maybe in a future I will be able to report that I am winning the battle with consistency.You will notice it did not make the list this week though.
I love reading the other success stories, so I will share mine with you as well.
I struggle with technology,
and have been working on a
sales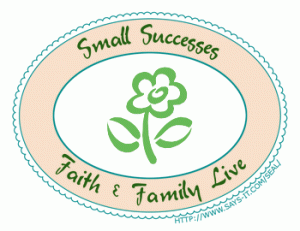 page for my website for quite awhile. It is finally done and up!
It is more than just the technology struggle though, it has been an internal struggle to go out and do the sales. You see, I have spent a lot of time on my knees praying about this business, and truly feel I need to do this, yet I guess it is Satan in action sitting on my shoulder and planting the seed of doubt in me.
Moms making money in this way, not only helps the mom stay at home, but helps the youth groups they work with be empowered to help others, both things the devil would love to prevent. I need to acknowledge what I am up against here.
My teenage son Daniel reluctantly recorded a video for me.
He  was embarrassed and felt like he was sort of bragging. Listening
to the video, and hearing his true feelings brought
tears to my eyes, and then opened them to what I have to do.
(To see the video, click on "How to Join " in the top menu  and scroll down watch the video)
I joined a Faith Based Business group to help me focus on doing business in a faithful way.
All in all, it has been a week of positive forward movement. Thanks for reading this.