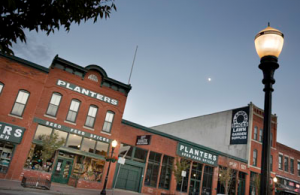 Herbs & Spices were on my shopping list yesterday. I don't usually  get overly excited about shopping, but when it means a trip to my favorite place to get spices, I do. I want to tell you upfront that I am in no way associated with the store, and they don't even know I am writing this, I just truly like what they do.
Yesterdays blog was about using the new technology to keep up to speed. I know I have to do that, but I want to tell you about my shopping trip today, because going to this special store is a nostalgic visit to days gone by.
It is called Planters Seed & Spice. It has been part of  the historic Kansas City Market for many years. It  is a nostalgic general store with original wood floors and seed drawers. You know how there are stores that adopt an old fashioned decor. That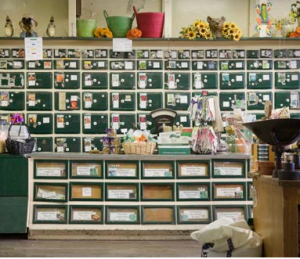 is not the case with Planters. It is the real deal. I should ask how long they have been there, but I am certain they have been there a long time. I don't think there have been any attempts to modernize their building in decades, and that is part of the beauty of it.
They sell bulk spices, tea, coffee, lots of seeds and bulbs, gardening supplies and tools, birdhouses and a random selection of other things. In the spring the entire sidewak in front of their store is filled with flats of flowers. 
I shop there because they sell really fresh products, I can buy them in bulk quaitities, and their prices are great. Usually when I am going out of town to spend time with my out of state relatives, I stock up at Planters to fill their spice racks as well.
Yesterday I was talking to the clerk and told her about that, and she gave me the information about their website. I  don't know why I never inquired about that before. I guess that since it seems like they still do business like they did in the past, it did not even dawn on me that they would also be selling on line.  Their spices are sold in 2 oz bags up to 1 lb bags. If  you are a wholesale customer, their prices are even better. 
In addition to their wide variety of herbs and spices, they also have a nice selection of dips, soup bases, and salad dressing mixes, coffee and tea. I wish you could have the experience of walking through the store. They have a bigger selection of bird houses that I have ever seen anywhere else. As you walk through the store, you go into different rooms. One contains just gardening tools and supplies, another just pots, wind chimes and lawn decor.
I am not writing an advertisement for their store, just a review because I enjoy shopping there. The fact that I could now share one of my sources for spices with you through their website just makes me happy. You can take a look at there site at PlantersSeed.com .
I am glad you can have access to their products, but sorry that shopping with them online won't be the same experience as actually going there in person. If you ever visit Kansas City, I would encourage you to check out the River Market and Planters Seed.