Free Group Coaching Series
I have been writing about my free group coaching series that I am currently offering. I wanted to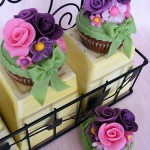 let you know that there is still time to get in on the fun. I am offering the next session is tomorrow at 11:00 EST. All you have to do is click on the link for my free coaching and sign up. You will get all the details emailed to you.
We had some great questions last week. If you have wondered about how you might start following a passion you have for baking/cooking, maybe I can offer some suggestions. I will share things I learned during the ten plus years I ran my home based corporate catering and gift basket company. I invite you to bring your questions and we can brainstorm together. If you have an idea, maybe we can figure out ways for you to start small and grow a business that you have just dreamed about until now.
I have been invited to do a podcast.
This is getting fun. A good friend, Joel Boggess is a coach who helps people "embrace your true self & find the work you love". We are going to talk about the journey I have taken to transition from running the catering company to working with others who would like to learn avenues they might follow to make profits from their kitchens. Check out the podcast .
I hope you will check out the coaching call tomorrow. I would love to talk to you.
photo credit  bubolinkata