Until recent years, building a website was way outside the expertise of most of us. Believe me, I would never have dreamed I would be sitting here showing others how to create a website. Will wonders never cease. WordPress has made it possible for the non techie people like me to actually build and operate a website.
If you are skeptical , I guess the proof is in the pudding. There are some things you have to have to make this happen. First of all, you have to have a webhosting company. If you are new to this blog and the blogging scene in general, you may be thinking that this is already sounding expensive. If you are, then you are in for a surprise. You can find Good hosting companies that charge under $7 per month.
I will tell you how to install WordPress in a minute, but I have to tell you something important first. When you choose your hosting company, make sure that they use Cpanel, it makes this process easy.The next thing you need to check out is whether they are going to help you when you are in a jam,  and how fast they will respond to your request for help. Will they speak in plain English? Will they speak English at all?
WordPress Installation Nightmare
I want to tell you about an experience I had recently. I was trying to help a mom with getting her website up. She found a random company and purchased her domain and hosting from them. She had not known to check the things I just told you. It was a big hassle. The company didn't use a Cpanel, & they did not respond to her emails. In the end she switched to another hosting company that helped get her up and running, but the entire process took a couple of weeks and was messy.
She asked me what to do when she was having so much trouble with the original hosting company. I have had great service from MomWebs so I recommend she contact them and ask them her questions. One of the reasons I made that recommendation was that not long ago, my website disappeared. I was frantic. I contacted MomWebs and they simply restored it to the previous days backup. The website was up in running again in no time. That was great service.
I know that I got off on a tangent, but it was a real life comparison of hosting companies that I was personally involved in. Okay, so I will assume that you have your hosting company and domain name, so in effect you have a website. Now to install WordPress. You will have to login into your Cpanel. It will look something like the picture below.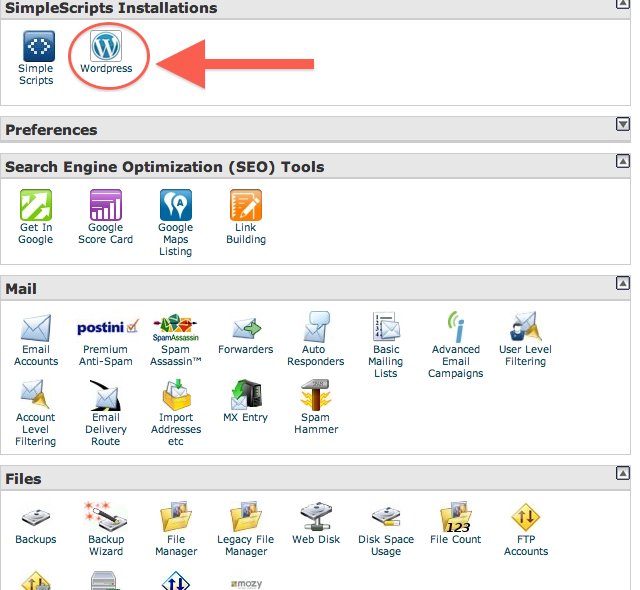 Simply click on the WordPress Icon directly to the left of the arrow. That will take youto the next screen.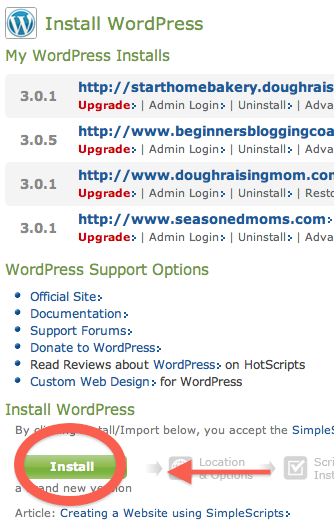 Now just click install-that is it. I told you this was a piece of cake.
The next screen you will see will give you the user name and password for your site. Click on your domain name and it should take you to your new website. Congratulations, I knew you could do it!
This is just the beginning. There is a lot of work to do to get your site done. To be honest, your site is never going to be "done". This is the place where you continually will create content that will benefit your customer. You will gradually establish yourself as the expert in your clients eyes. Occassionally, you will offer them great products.
Those products can be developed by you, or they can be links to companies you are proud to promote. In the latter case, that is what is called affiliate marketing. There is an example of that with the link to MomWebs. If you signed up for their service, you would not pay an additional penny, but MomWebs would pay me a small commission for referring you to them. It is a great way to build income with your website. If you have questions or comments, I would love to hear them. Good luck building your website, that is pretty exciting.