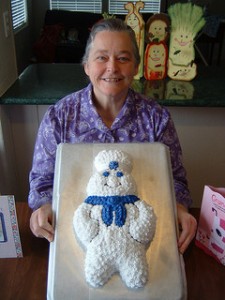 There seems to be a misconception about the safety of food made on a home kitchen under the Cottage Food Laws. I want to demonstrate the scrutiny that many states use in issuing the permits for the home bakers. I just went and took a look at the requirements for a permit to bake under the Cottage Food Laws recently passed in the state of Washington. I can honestly tell you that the oversight of those bakers surpasses what is required of many other food establishments around the country. Don't believe me, well, let's take a closer look at the permit application.
The Application Packet
The cover page for the application packet for a cottage food law permit in the state of Washington gives the reason the state passed these laws.
The Cottage Food law recognizes the fact that many small, value-added food processors do not have ready or affordable access to commercial kitchens that are licensed for food processing, and that the home kitchen can be an affordable alternative to leasing a certified commercial kitchen.
Many other states are on the same page as the cottage food laws sweep the country. Here is a look at some of the information needed to actually get a permit in Washington.
On the second page of the packet it asks for the usual things like name, address, phone number, address of the kitchen (it needs to be the same place you live) whether you are on a private water source, your food handlers card number, and then a listing of each of the foods you want to offer. They have a list you can choose from including Baked Goods (that are cooked in an oven),
Loaf breads, rolls, biscuits, quick breads,muffins
Cake,Pastries or scones
Cookies or bars Crackers Other similar baked product, please describe:
Cereals, trail mixes, or granola
Candies and confections (that are cooked in an oven only)
Pies (except custard style, or pies with fresh unbaked fruit,
or pies requiring refrigeration after baking)
Nuts or nut mixes Snack mixes
Next you sign a permission form for the state to inspect your kitchen and take food samples. Then you pay for the permit. It currently costs $230.
Permits Required for Cottage Food Law
The next thing on the application that is required is a copy of your Master Business License, your Food worker Card, and the results of test of potable water. If you have a private water source, a sample has to be submitted to make sure it is potable water. The results of that water test also has to be submitted.
Next you have to make a floor plan that shows locations of :
•
o All Cottage Food Operation preparation equipment
o Food contact work surfaces
o Equipment wash, rinse and sanitize sinks .(Sanitizing maybe done in a tub, etc); Dishwasher if applicable
o Primary toilet room o Hand washing in
kitchen
o Storage areas
o Pet and child areas or gates, if applicable
Processing, packaging and labeling
After you have finished drawing the floor plan, you have to submit a list of all the products that you are applying for a permit. If the products are approved, they are listed on your permit. Then you have to submit the recipe for each product you have listed. The name of the product has to be listed on the top of each recipe with the exact measurement of each ingredient. These products must be baked in an oven, not a microwave. each product must have it's own recipe. If there are variations of a recipe,  you must submit recipes  for each variation.
Next you have to describe in detail how you will process each product."Some processing steps will be identified in the recipes; some will be identified in the packaging. This page is to identify non-listed steps of the processing or packaging in detail to review for hazards that may be introduced.
One way to make sure that steps are not overlooked is to do a flow diagram or chart from ingredient purchase and storage, to processing and cooling through the labeling steps. Are ingredients and finished products protected from contamination? Are allergens such as peanuts kept separate from non- peanut products?"
That takes us to describing how the product will be packaged. Of course it has to be packaged in food grade packaging to avoid contamination. Here are the examples given on the application.
•    "I use new plastic baggies from Costco, and with disposable gloves place two cookies in a baggie and seal with a twist tie." I then take my computer generated self stick label and place one label on the baggie of two cookies.
•    "I use food-grade flexible plastic, and a vacuum-packer to vacuum-pack individual muffins." I then take my computer generated self stick labels and place one label on the side of the muffin."
The last step in the processing description is a copy of the label you are required to have on each item you sell. Your label must have must include the following:
Name of Cottage Food Operation
Physical address of Cottage Food Operation
Product name
Ingredient list – Break down to the smallest sub-ingredients
Weight or volume in U.S.
Made in Home Kitchen statement
The label must identify any and all allergens.
Equipment, utensils, & sanitation
This section covers a list of your equipment and utensils. You also have to provide a description of your product contact surfaces.
Next you have to describe how you will clean equipment, utensils and product contact surfaces and how often. You have to explain how you will clean floors and walls and how often you do that. This section also covers handling of allergens. Here is the guide provided for allergen management.
The 8 most common Allergens are Milk, Wheat, Eggs, Peanuts, Soybeans as well as Tree Nuts, Fish, and Crustacean Shellfish
Allergen control will include changing aprons after processing products containing Allergens and before those that do not.
Do not store Allergens such as wheat flour over ingredients used in non- wheat products.
A domestic dishwasher may be used in lieu of a three- compartment sink. Kitchen utensils that will not fit into a dish machine must be washed, rinsed, and sanitized using a three-compartment sink method. The third compartment may include a large tub placed next to a two-compartment domestic kitchen sink.
Carpeting and rugs are not approved flooring material in the Cottage Food Operation home kitchen preparation area. Cleanable impermeable floor mats are allowed.
 Processing Dates & Sales

You are required to supply the hours and days of the week that you may be working in your business. For example, if you are working Monday-Friday from eight in the morning until noon, you need to have that on your application. You can also indicate that you are only intending to work occasionally.
You have to submit a sales plan that describes how you plan to market and sell your product. You are allowed to market, advertise and collect money online, however, delivery must be made in person. You are not allowed to ship your products, and the sales must be made within the State.
Child and Pet Management Plan
Finally you have to tell the state how you will manage your children and pets during the production of your products. Neither small children nor pets are allowed in your kitchen while you are working, so you have to tell them how you are going to keep them out of your kitchen.
The last of the fourteen pages in this document is simply a checklist so that you make sure you have supplied all the information they have requested. If anything is missing or incomplete, the permit is held up and it takes longer to get the kitchen approved.
So you see, there is a lot of information that is required. The health department inspects the kitchen before the permit is issued and can inspect a kitchen if there is a complaint. I don't know of restaurants that are required to supply their recipes to the health department, but that may be a requirement in some states, I just have not experienced that or known of it myself.  If you were feeling that the food prepared by the bakers working under the Cottage Food Laws may not be safe, I hope reading this information will help ease any doubts you have.
If you would like to see the entire document for the state of Washington, you can read the document for yourself.
I would love to hear your thoughts and comments.
photo credit: Skweaky21