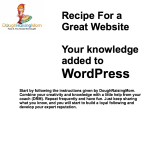 WordPress .org is the main ingredient for your new website. Once you have that, you are in business. Well, perhaps I should stay you have taken the first step in starting a business. You can start your website before you ever bake a cookie that you want to sell. You can start right away, now is a great time to just do it. Don't worry, I am going to help you. I told you we are in this together.
I am going to give you the directions, make videos for you, make simple recordings, make screen shots, and whatever else I can think of. It will really help me if you have questions to post them in the comment section. That way I can help you understand the things that are confusing. I am not going to go into coding, I am not a coder, and you don't have to be either.
Hosting
I mentioned before that I recommend Bluehost. I use it myself, and have been happy with their product and service. Above all, I value the cPanel it uses. All the screenshots and videos I am making will be based on Bluehost. You can choose another hosting company, but it might be harder to follow my directions in the process of uploading WordPress to your site. After that, it won't matter at all when it comes to using the administration panel of your WordPress site.
So, step one is purchase your hosting account. If you choose Bluehost, they offer the first domain name free, so make sure you take advantage of that. After you sign up for their service, you will get a user name and password to your cPanel. Sign in and you will see a screen that looks like this: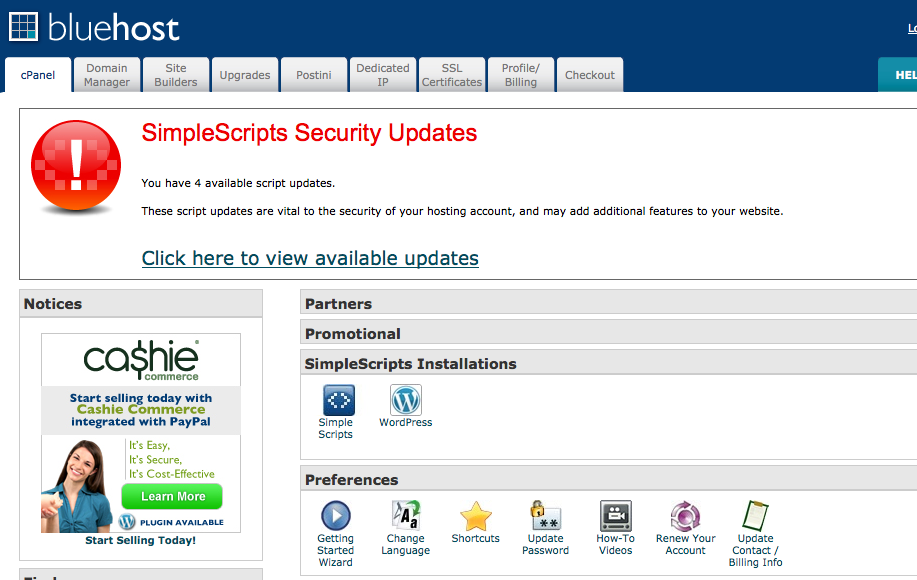 This is only the upper part of the cPanel. The first thing you need to do is register your domain name. If you just purchased your hosting from Bluehost  click on the Domain Manager. See below:

Once you click on it, you will see a screen that allows you to type in the name of the domain you want to use for your website. You need to understand that many domains are already taken, so you might want to have several ideas before you start this process.  Here is a picture of the page where you register your domain.: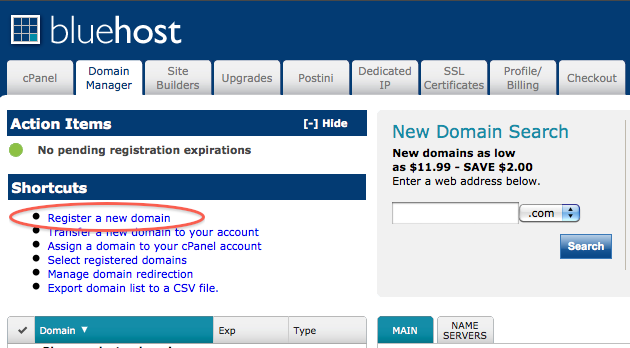 As soon as you find a domain that is available, purchase it. With Bluehost if it is the first domain you are getting with your hosting account, it will be free. If you decide you want other websites in the future, you will have to purchase subsequent domains. Bluehost lets you host unlimited websites for your hosting fee. You can see on the screen, the regular price for a domain through Bluehost is $11.99.I know that you  may see ads for domains cheaper elsewhere, that is fine, but there are extra steps involved in getting the domain name to work with your hosting account, it is sort of a hassle, takes time, and I won't be covering how to do that with you here.
Okay, you have your hosting account set up, you have your domain name registered, now the fun begins. You are simply minutes away from having your website set up. Go back to your cPanel. In one of the top boxes you will see the icon for WordPress: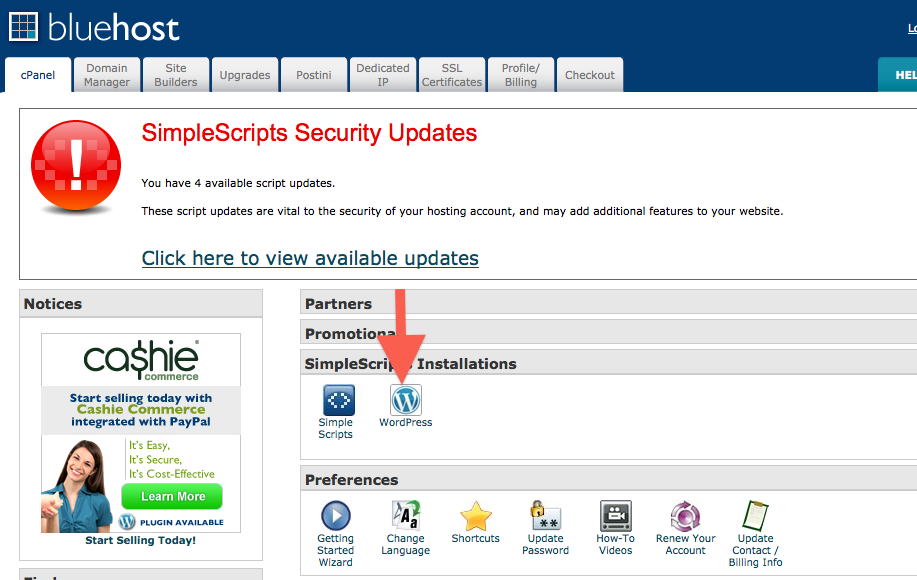 We are almost there, now you simply click on the WordPress Icon that the red arrow points to.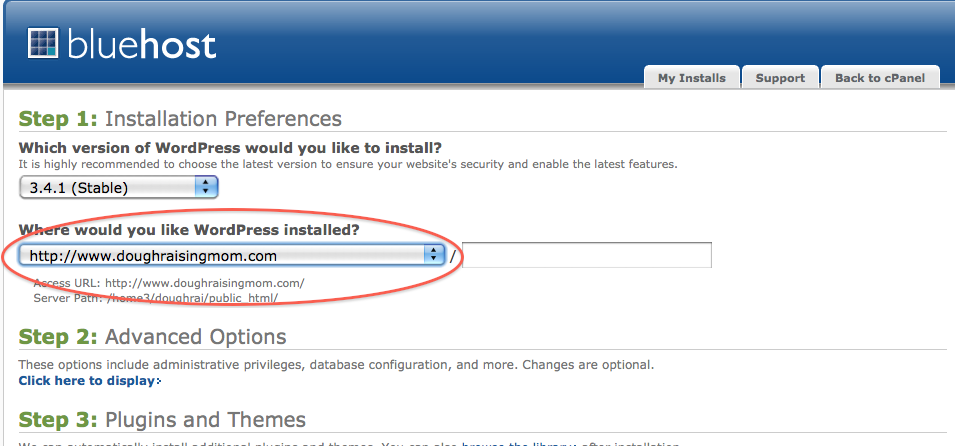 If you only have one domain, it should show up in the box I circled. Next you just need to agree to the terms and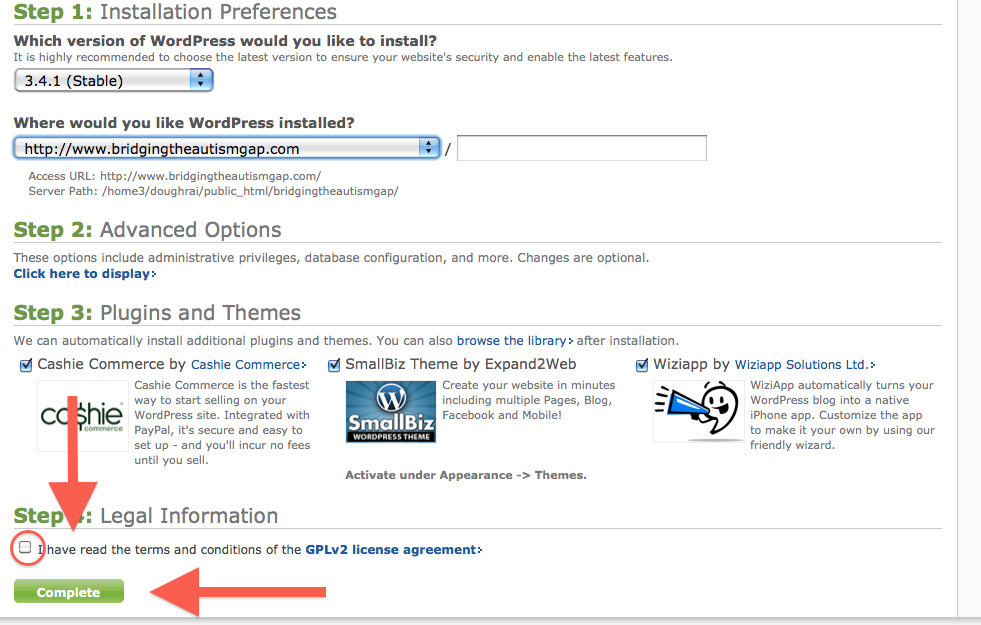 You only have to wait a couple of minutes and your user name and password will be shown along with the new url to your website. All you have to do is click on the url and then enter the login information. You will then be taken to your administration panel and you are all set! In the next session, I will show you how to set up your site. I know it all may seem like Greek now, but no worries, it will all start to make sense with a little practice. If you have questions, please leave them in the comment section or contact me by using the contact form in the menu or click on the Google Voice icon and leave your contact information and I will call you shortly.
Talk to you next time.
Grace
P.S. From time to time I recommend products and services I 110% believe in. If you click my link and buy I earn a commission. The products won't cost any more because you click my links. In fact, I'm sometimes able to negotiate better prices or add bonuses on top when you click my links. It's a triple win.