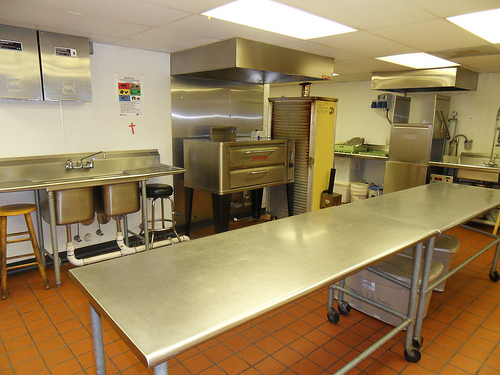 A commercial kitchen for rent can be an alternative if your state or city does not have Cottage Food Laws.  Although Cottage food laws may be the answer for a lot of entrepreneurs, they are limited in their scope. Anyone wanting to prepare anything that is considered potentially hazardous is out of luck. You know, every day as we prepare dinner for our families, we are working with potentially hazardous food- kind of scary.
Because of that, the Health Department monitors preparing food for the public that could make people sick. When you are working with meat, fish, dairy products, things that must be kept cold or hot to prevent food borne illness, it must be make in a licensed commercial kitchen that meets the licensing requirements of the local HD. Unfortunately, setting up your own commercial kitchen requires a large investment beyond the reach of many budding entrepreneurs.
Check Out an Incubator Kitchen
The concept of an incubator kitchen is spreading across the county. Basically it is a shared use commercial facility available for start up businesses. In many cases, it is part of an entire program to help launch start up food businesses. An incubator could be the perfect solution to someone wanting to start a food based business. It is more than just a commercial kitchen for rent. Usually it is paired with an educational and mentoring aspect.
In the incubator kitchens the tenants have  access to commercial equipment in a licensed facility. Michigan is a leader in promoting food based businesses. Not only do they have a Cottage Food Law, they offer a great incubator program, one of many found across the country. Today I am featuring "The Starting Block". It is one of the Michigan programs. Here is just some of what they offer:
A Commercial Kitchen. The shared-use commercial kitchen helps meet food processing needs at low hourly rental rates.  Kitchen usage fees range from range from $10 per hour for tabletop kitchen use and food packaging, to $12 per hour for general kitchen use, and $15 per hour for baking, catering, and steam kettle and filler processing. Certified staff in food handling and equipment operation is available for assistance and training.
Office Rental – Office rental includes wireless internet access, local phone, conference room, and office support.  A 90 square foot office rents for $110 per month and a 225 square foot office for $275 per month.
Education – Small business management, networking, and individual business guidance are offered, along with Entrepreneurship, Small Business Management, and Marketing classes.
Equipment – Tenants receive training and have access to commercial ovens, freezers, ranges, mixers, kettles, industrial food processors, and more
Licenses-The shared-use kitchen is licensed and approved by the Michigan Department of Agriculture.
Product Development – Technical advice is offered on food production, pH levels, batch-up recipes, and packaging and labeling.
Warehouse & Storage – Refrigerator, freezer, and dry pallet storage is available for rent at the rate of $10 per month for non-secured dry storage, and $15 per month for secured dry storage.  Refrigerator and freezer storage rents for $1.50 per cubic foot per month and $75.00 per pallet per month.
In programs like that, people have experts to train them in how to properly run a food business, but how to run a profitable business period. They learn about food safety, proper food holding temperatures, sanitizing equipment and surfaces and so much more. In addition, they help set up a bookkeeping system & writing a logical business plan. They teach the ins and outs of marketing and sales. In some places, the incubator is associated with a cafe where products can be sold.
It is a great way to launch a food based business without breaking the bank, to say nothing about the value of the training and support you get through the program. One program boasts that 87% of their "graduates" succeed in running their own business. That is really impressive when you consider the high failure rate of restaurants, bakeries etc.
If you have been interested in my fundraising program but did not have a place to bake in, you might be able to rent a commercial kitchen or possibly even an incubator. I spent a little (well, actually kind of a lot of time) researching where you might one near you. The following list is just a sampling, there are certainly a lot more.
These are just a few, the number is growing all the time. You can also contact your local county extension and ask if they offer any type of program like those listed above. Whew, you can always find more by simply researching "incubator Kitchens" on Google. I would love to hear your thoughts, so please leave a comment in that section.
photo credit: Neighborhood Centers