How to sell your products
Often I get questions from my readers Today I got a question from a reader asking for tips on how to get started finding customers for her products. She was wondering how you get started marketing when you don't have much of a clue how to do that. I remember sitting in that same place so many years ago. I knew I had a product people loved, but how and
where do you find people willing to hand over money for that product. It is scary when you are just starting, so I put together some ideas.
Start with a Plan
I would recommend starting by developing your plan. You have a lot of options, but I would suggest you narrow down what you plan to offer. You have to keep in mind that shelf life is a problem bakers have to deal with. In addition, developing a reputation for a signature item is a great strategy. For me, it was the cinnamon rolls, although I bake many things, I started with cinnamon rolls and my reputation was built on that. People who loved my cinnamon rolls assumed that if I could make great cinnamon rolls, anything else I made would be the same.
The other thing you have to consider is making a big variety of products takes a lot of time, and if you don't sell it you either have to greatly reduce the price at the end of the day or you take a total loss and best case donate it to a food kitchen so someone will benefit from it.
There is a lot of competition out there. Every grocery store will sell products that will compete with what you have to offer. You need to figure out what people would love to be able to buy. For instance, homemade bread is very different than what is offered in the store. People rave about actual homemade bread made without the preservatives and dough conditioners that drastically change the texture and taste. Finding a provider for something that takes them back to the feeling of walking into "Grandmas kitchen"is a huge selling point and if used right a great marketing tool.
You have to start small, and don't invest in huge advertising, it is a waste of a lot of money. You can pass out a lot of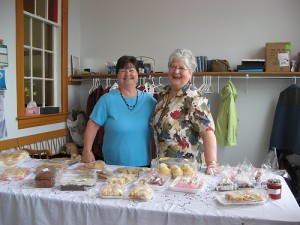 samples for a fraction of the cost. You can start at your kids school, groups . You can easily establish a reputation by being the mom who always shows up with food that is fabulous. Once you have done that, it is time to let people know that you have started a business and they can now purchase that same great ________ any time. Then let "word of mouth" get
behind your marketing plan and give it a big push. You can even sweeten the pot by offering a reward card for referrals.
The reality is that this is a slow build, but it won't break the bank or put your family at financial risk. It is the true beauty of Cottage food laws. If you have a local farmers market, you should be able to put up a booth there on the days that the market is open, and that is a great place to start. There will be a small rental fee for the space.
Be sure you have business cards ready to hand out so that people can contact you to make purchases outside the market. I would recommend VistaPrint to get your business cards so they are professional. They have sales all the time. Don't print your own business cards on your printer and then cut them apart, that is not very businesslike and does not leave the impression of someone serious about their business.
Those are some suggestions that I hope will help you get started. Just remember that almost no one is an overnight success, so don't get discouraged. Celebrate each sale, give great customer service along withyour great products and you will win over a loyal market. Make your customer feel like you make that productjust for them. One of the services you might offer is to let them hire you to do the baking for their entertaining needs and then keep in mind that presentation is important. Make a big hit at someone's party, and you will probably be able to expect orders from the guests when they entertain.
I hope that helps. Have fun, because it is fun to build a customer base that you enjoy interacting with. Don't be afraid to talk with your customers, people love when you are interested in them.
Best of luck.
Blessings,
Grace