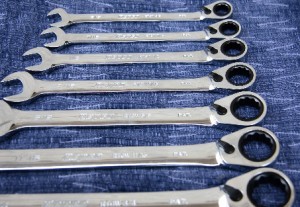 My Father was a mechanic, who worked very hard to provide for his family. As a little girl, I remember his hands permanently stained from the grease of the motors he fixed daily. The hard work took quite a tole on his body, but he held fast to his motto "Work hard and pray"
He was a successful family and business man. He supported his church throughout his life with his time, talent and treasures. He trusted God, and worked faithfully for the church and all people. He always helped someone in need.
One of the keys to dads success was that he ran an ethical business, stood behind his work, and treated his customers like gold. He was a gifted mechanic, and used his gifts well. In return, God blessed him with success.
He had it figured out, and all we have to do is read Deuteronomy 28:12
"The LORD will open for you His good storehouse, the heavens, to
give rain to your land in its season and to bless all the work of
your hand; and you shall lend to many nations, but you shall not borrow.
Thanks Dad, I will try and live up to your motto and Work Hard and Pray.