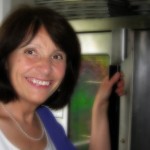 Scammers Make Me Mad.
By reading the title, you probably have figured out that I have gone around or two (or ten) with work at home scams. I am the mom of twelve, and staying home with my children is my top priority, but contributing to the family finances was also important.
I searched far and wide for a legitimate way to generate money from home, and fell victim to more than my share of scams. You know, after awhile, you get pretty darn sick of that game. I finally wised up, and took a look at what I was good at and decided to do my own thing. I could bake well, so I started my own business doing just that.
I ran my business for ten years,
but there was something missing.
You get to a stage where you try and figure out what you want to be when you grow up. I started the search, and let me tell you, it was pretty hard. That really is an understatement, it involved a lot of soul searching, prayers, and finding the right people to mentor me.  I took all the skills and personality tests to discover my strengths and talents, I read lots of books, listened to a ton of podcasts, took classes, and finally the results are in.
I am passionate about helping moms.
Many moms want the privilege of staying at home with their children, but I know that many times finances make that hard to do. I have facilitated Dave Ramsey's "Financial Peace University" classes many times, and know that extra income is important in lots of households. Therein lies the dilemma, how to generate the income needed AND stay at home.
I discovered that one of my gifts is teaching, paired with the fact that I love communicating with people. In my search for the answer to what I wanted to be when I grew up, I decided to see if I could teach baking skills to other people who did not have experience baking. Then I got a scathingly brilliant idea. My friend Judy cringed at the thought of baking, but she is a great sport, and agreed to let me teach her how to bake, and even let me video the lessons. Check out the videos in our recipe section. We have a great time, and Judy is becoming famous for her baking. All her friends and neighbors are lining up to get on her good side (she is spreading great food and good cheer to those near and dear to her.)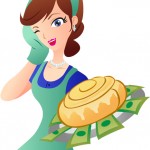 I wanted more proof, so I decided to teach a class how to bake, and had great reviews, so now I am going to open my doors and finally start helping stay at home moms learn to generate income for their families, and be able to stay at home with their kids. I have been greatly blessed and I am excited that I can help some moms do what I have done.
I will be posting more information in the coming weeks, and so watch for more information about how I can help some other stay at home moms generate money for their families.